THE BEST IN 60's & 70's SOUL MUSIC
and 50's rock & roll! Internet radio with soul!
SOUL SHACK PODCASTS UPDATED WEEKLY!
Click SHOWS in the left panel to check them out!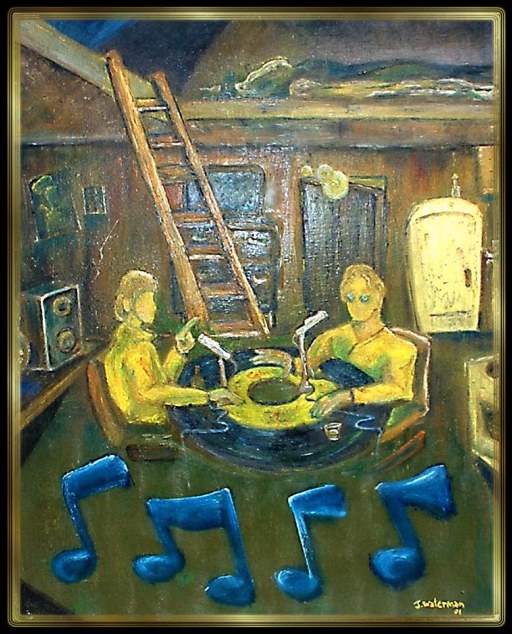 "The Soul Shack" by Justin Waterman

See Relf & Rivera in action recording an episode of
The Soul Shack Radio Show
in Windows Media Video.
What is The Soul Shack?
The Soul Shack was an idea born a few years back when myself, Scott Relf, and a good
friend Johnny Rivera started to get together occasionally to listen to old r&b, blues, funk and
soul records. As time went on, and our record collections expanded, we realized that it was a
shame that only we were hearing this music and that we needed an audience. We began to
record shows dubbed The Soul Shack. Six shows were recorded, but no luck in finding a way
for the world to hear it...until now! The show first appeared online March 14, 2001
featuring the best in 60's and 70's soul music.
We have 162 shows completed plus 33 editions of The Night Hawk Show
featuring the very best in 50's Rock 'N' Rhythm records!
"WE GOT MORE SOUL" at The Soul Shack Radio Network!

100 Proof Aged In Soul,Barbara Acklin,Barbara Acklin,Barbara Acklin,The Astors,The Astors,Average White Band,Hank Ballard & The Midnighters,Darrell Banks,Darrell Banks,Darrell Banks,J.J. Barnes,J.J. Barnes,Bazuka,The Beginning Of The End,Archie Bell & The Drells,Archie Bell & The Drells,William Bell,George Benson,George Benson,Frankie Beverly & The Butlers,Big Maybelle,Bobby Bland,Bobby "Blue" Bland,Bobby Bland,Bobby Bland,Bobby Bland,The Blendells,Bob & Earl,Bobo Mr. Soul,Gary US Bonds,Gary US Bonds,Brenda & The Tabulations,Brick,Louis Brooks & His Hi-Toppers,The Brothers Johnson,The
Dominoes,The Dorsets,Dr. Feelgood & The Interns,Dr. Horse,The Dramatics,The Drifters,The Drifters,The Drifters,Dyke & The Blazers,The Dynamics,Earth, Wind & Fire,Earth, Wind & Fire,Earth, Wind & Fire with The EmotionsEl Chicano,El Chicano,The Elgins,The Esquires,The Falcons,The Falcons,The Fantastic Four,The Fascinations,The Fi-Dels,The Flaming Ember,The Fleets,The Flirtations,The Flirtations,Eddie Floyd,Eddie Floyd,The Four Tops,The Four Tops,The Four Tops,Aretha Franklin,The Gap Band,Marvin Gaye,Marvin Gaye,Marvin Gaye,Marvin Gaye,Marvin Gaye,Marvin Gaye,Marvin Gaye,Marvin Gaye & Tammi Terrell,Marvin Gaye & Tammi Terrell,Dobie Gray,Al Green,Roosevelt Grier,Daryl Hall & John Oates,Roy Hamilton,Roy Hamilton,Wynonie Harris,Leon Haywood,Eddie Holman,Hot Chocolate,Joe Houston,Thelma Houston,Willie Hutch,The Impressions,The Impressions,Luther Ingram & His Orchestra,Instant Funk,The Isley Brothers,The J.B.'s,The Jackson Brothers,J.J. Jackson,Willis Jackson,Hank Jacobs,The Jades,Etta James,Jay & The Techniques,Jay & The Techniques,Joe Jeffrey Group,Jimmy & Jean,Little Willie John,Little Willie John,Johnny & Jake,Ruby Johnson,Louis Jordan,Louis Jordan,Juggy,King Curtis,King Curtis,Freddy King,Freddy King,The Knight Brothers,Kool & The Gang,LaBelle,Major Lance,Major Lance,Denise LaSalle,Emanual Laskey,Betty LaVette,Barbara Lewis,Lil Bob & The Lollipops,Little Richard with The Johnny Otis Band,Little Richard,Love Unlimited Orchestra,Oscar Mack,Taj Mahal,The Main Ingredient,Steve Mancha,Bobby Marchan,Bobby Marchan,Bob Marley & The Wailers,Martha & The Vandellas,Martha & The Vandellas,Martha & The Vandellas,The Marvelettes,Curtis Mayfield,Curtis Mayfield,George McCrae,George McCrae,McFadden & Whitehead,Clyde McPhatter,Blind Willie McTell,The Meters,MFSB featuring The Three Degrees,Amos Milburn,Garnet Mimms & The Enchanters,Van Morrison,Sam Moultrie,Billy Ocean,The Ohio Players,The O'Jays,The O'Jays,The O'Jays,Bobby Parker,Ruben Parker,The Parliaments,Ann Peebles,Al Perkins / Hi Rhythm Section,Piano Red,Wilson Pickett,Wilson Pickett,The Platters,Professor Longhair,Professor Longhair,James & Bobby Purify,Bertice Reading,Otis Redding,Otis Redding,Bob Relf,Sir Mack Rice,Charlie Rich,The Righteous Brothers,The Miracles,Smokey Robinson & The Miracles,Smokey Robinson & The Miracles,The Miracles,Vicki Sue Robinson,Lee Rogers,Rose Royce,Diana Ross,David Ruffin & Eddie Kendrick,Jimmy Ruffin,Jimmy Ruffin,Sam & Dave,Santana,Harvey Scales & The 7 Sounds,Harvey Scales & The 7 Sounds,Freddie Scott,Jackie Shane,Jackie Shane,Jackie Shane,Jackie Shane,Dee Dee Sharp,Skull Snaps,Percy Sledge,Tarheel Slim,Sly & The Family Stone,Sly & The Family Stone,Sly & The Family Stone,Huey "Piano" Smith & The Clowns,Jimmy Smith,The Soul Brothers Six,The Soul Clan,The Soul Communicators,Southside Johnny & The Asbury Jukes,The Spinners,The Staples Singers,The Staples Singers,Edwin Starr,Edwin Starr,Edwin Starr,Edwin Starr,Amii Stewart,Donna Summer,The Supremes,A Taste Of Honey,The Tavares,Richard Temple,The Temptations,The Temptations,Irma Thomas,Jamo Thomas,Rufus Thomas,Rufus & Carla,Timmy Thomas,The Trammps,The Trammps,The Treniers,Joe Turner,Spyder Turner,Jimmie Vaughan,Narada Michael Walden,Jr. Walker & The All Stars,War,Gino Washington,Junior Wells,Junior Wells,Fred Wesley & The JB's,Kim Weston,The Whispers,Barry White,The Wild Magnolias,Jerry Williams,Larry Williams,Chuck Willis,Frank Wilson,Jackie Wilson,Jackie Wilson,Jackie Wilson,Bobby Womack,Bobby Womack,Stevie Wonder,The Younghearts,Soul,R&B,Rhythm and blues,blues,funk,radio,soul radio,soul shack,soulshack,Scott Relf,Johnny Rivera,John Zylak,soul music,oldies,oldies radio,50ís , 60's, 70's, rare soul, soul rarities, obscure soul, podcast, podcasting, podcasts, SCR TRANSISTOR OLDIES
SCOTT LOVES JEAN